Chinese applications that offer you a wide range of products are still in fashion. Aliexpress was only the beginning and many have followed it until today with the intention of entering more markets. The last to arrive has been Temu, which has gone viral thanks to the number of users who have participated in its games and who have obtained free gifts.
What is Temu?
Let's go in parts, and the first thing is to define what Temu is and what it consists of. Before we have already given you the clue you needed to know: is a new competitor to Aliexpress. It is an application for buying products of all kinds, from electronics, through clothes to all kinds of beauty products that you can imagine.
It has a search engine to find everything you can imagine, but if there is something that stands out above the rest of its competitors, it is that has very interesting discountss. Now they are at the time of their grand opening and you can find products at 90% discount with shipping and returns at no additional cost. We will see if they maintain these policies in the future.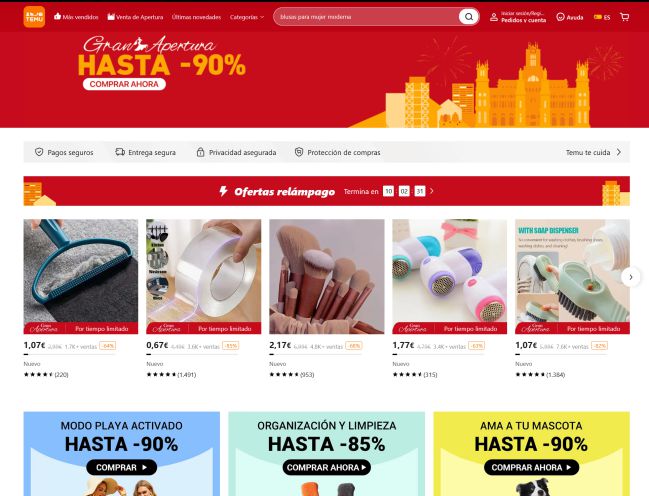 How to get free gifts
Here comes the reason why Temu has gone so viral these days. It turns out that the application is giving away all kinds of products if you play the different minigames that it offers you. Each one has a way to participate, but they all allow you to choose a minimum of two products that they give you if you manage to fill the progress meter.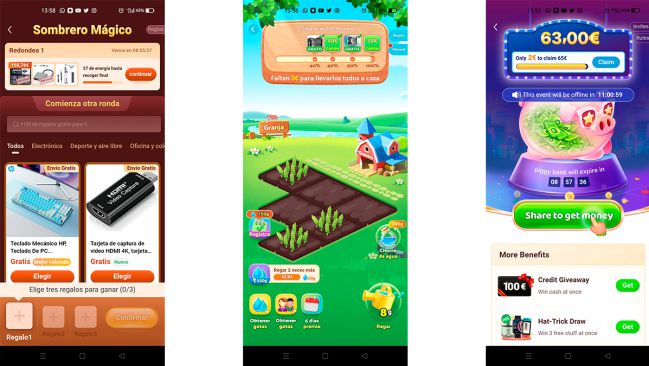 There are very simple ones like the farm, where you have to 'water' your virtual field, or shaking a tree. But not all is so easy. They all share the same strategy that with each progress you make it becomes more difficult to reach the limit and for that you will need the help of other users.
Each game has its rules and they will give you more or less resources depending on whether the code you share, which is always different depending on the game. For example, new users will give you more resources, while existing ones will give you the minimum to continue. And if you wonder, if there are people who have managed to get many gifts and have shared it on social networks.
Is it a legit page?
Away from the application's intention to reach more users, which is evident from the way its games work, the big question is whether you can trust Temu. As is always the case with these types of applications, It is best to place a small order to check that it reaches you and that it does so in good condition.. In addition, the payment methods are trusted, and having the PayPal option is always a safe bet.
On the other hand, and this is already at the consumer level, you must take into account some tricks such as digging well to find good offers and, above all, pay close attention to the prices when you have an item in your cart, since sometimes they change if you are a new user or if you have already browsed the app.